Target and training idea : Strengthening Mental Resilience
The target group of the "Strengthening Mental Resilience" training includes both managers and employees. The training is aimed at individuals in managerial roles as well as employees at various organizational levels who want to develop their mental resilience, enhance their ability to cope with stress and challenges, and improve the quality of their professional and personal lives.
Idea of the "Strengthening Mental Resilience" training is to provide participants with the tools and strategies needed to enhance their mental resilience. The main goal is to help participants better cope with stress, life challenges, and develop skills for effective emotional management. The training aims to improve overall well-being and quality of life, both in the professional and personal spheres, and is intended for both managers and employees at various levels of the organization.
Strengthening Mental Resilience – training benefits
Improving employees' work efficiency, leading to increased organizational productivity.
Improving employees' mental health, reducing absenteeism and health-related costs.
Better relationships among employees, fostering a positive workplace atmosphere.
Increasing employee engagement in job duties, positively impacting company results.
Enhancing the organization's competitiveness in the market through more efficient and motivated employees.
Reducing employee turnover and team stability.
Increasing employee job satisfaction, influencing long-term loyalty to the company.
Benefits for the organization
Increasing Employee Productivity: Training can help employees better cope with stress and pressure, which can translate into higher workplace productivity. Mentally resilient employees are more focused and effective.
Reducing Absenteeism and Employee Turnover: With acquired skills in stress and emotion management, employees may be less prone to burnout, contributing to reduced absenteeism and turnover within the organization.
Improving Workplace Atmosphere: Better emotional management and increased psychological resilience among employees can contribute to a more positive workplace atmosphere, which can have a beneficial impact on employee relationships and cooperation.
Boosting Employee Engagement: Employees who feel more confident in dealing with challenges and pressure are more engaged in their responsibilities and more inclined to take initiative.
Reducing Health-Related Costs: Improving employees' mental health can lead to a reduction in costs associated with treating health problems resulting from chronic stress and other emotional difficulties.
Enhancing Market Competitiveness: Organizations that invest in developing their employees' psychological resilience can gain a competitive advantage in the market through more efficient and motivated employees.
Benefits for employees
Better Stress Management: Employees gain tools and strategies for effectively dealing with stress, allowing them to avoid burnout and maintain a work-life balance.
Increased Psychological Resilience: Through training, employees develop psychological resilience, meaning they are more flexible in the face of challenges and can better adapt to changes in the work environment.
Improved Mental Health: Training helps employees better understand and manage their emotions, leading to an overall improvement in mental health and well-being.
Enhanced Work Efficiency: Employees who cope better with emotions and stress become more focused and effective in performing their professional duties.
Improved Interpersonal Relationships: Thanks to training, employees can better understand themselves and others, contributing to better relationships with colleagues and superiors.
Increased Job Satisfaction: Improving the ability to cope with challenges and stress can lead to greater job satisfaction and job contentment.
Increased Professional Engagement: Employees who feel more confident in their ability to deal with difficulties are more engaged in performing their duties and are committed to professional development.
Reduction of Negative Stress Effects: Training helps employees limit the negative effects of prolonged stress, such as health problems or decreased motivation.
Program
Four steps to strengthen mental resilience based on the scientific model of mental resilience.
What is neuroplasticity and why is it essential for strengthening our psyche?
Habits that lower my mental resilience – how to eliminate them and strengthen those that enhance it?
Awareness and emotional self-regulation – how to strengthen emotional self-control and focus on aspects that can be controlled, rather than those that cannot be controlled.
Methods for strengthening emotional self-regulation using Rational Behavior Therapy techniques – the cognitive-behavioral- ABCD model: situation, thought, emotions, physiology, behavior.
Dealing with anger, frustration, fear, and uncertainty – the SBNRR technique.
Detecting thought patterns that cause stress and unpleasant emotions and ways to work with them.
The ability to face challenges – how to develop it?
Cognitive reframing – a method that makes it easier to deal with changes and difficulties.
Working with resources – how to use your own resources and team experiences to cope with difficulties.
Embodiment, or the impact of the body on emotions and behavior.
How do people most commonly react to stress? Healthy methods for reducing tension and de-stressing.
The green zone method – how to maintain balance and mental strength.
How to build habits aimed at strengthening resilience to stress?
My personal action plan: What will be the first step? Where do I start?
An individual training plan for changing habits.
Methods used during training
During the workshops, participants practice specific techniques and strategies related to coping with stress, managing emotions, and building psychological resilience.
2
Lectures and Presentations
Instructors provide theoretical knowledge about psychology, stress, and psychological resilience, which serves as the foundation for further actions.
Participants learn various relaxation techniques, such as meditation, breathing relaxation techniques, and yoga, which help reduce stress and improve well-being.
Analyzing specific cases from participants' professional and personal lives helps in understanding and applying the acquired knowledge in practice.
5
Individual Consultations
Participants have the opportunity to benefit from individual consultation sessions during which they can discuss their personal challenges and receive specific advice from the instructor.
Group exercises help participants develop interpersonal skills, build social support, and learn from others.
Trainers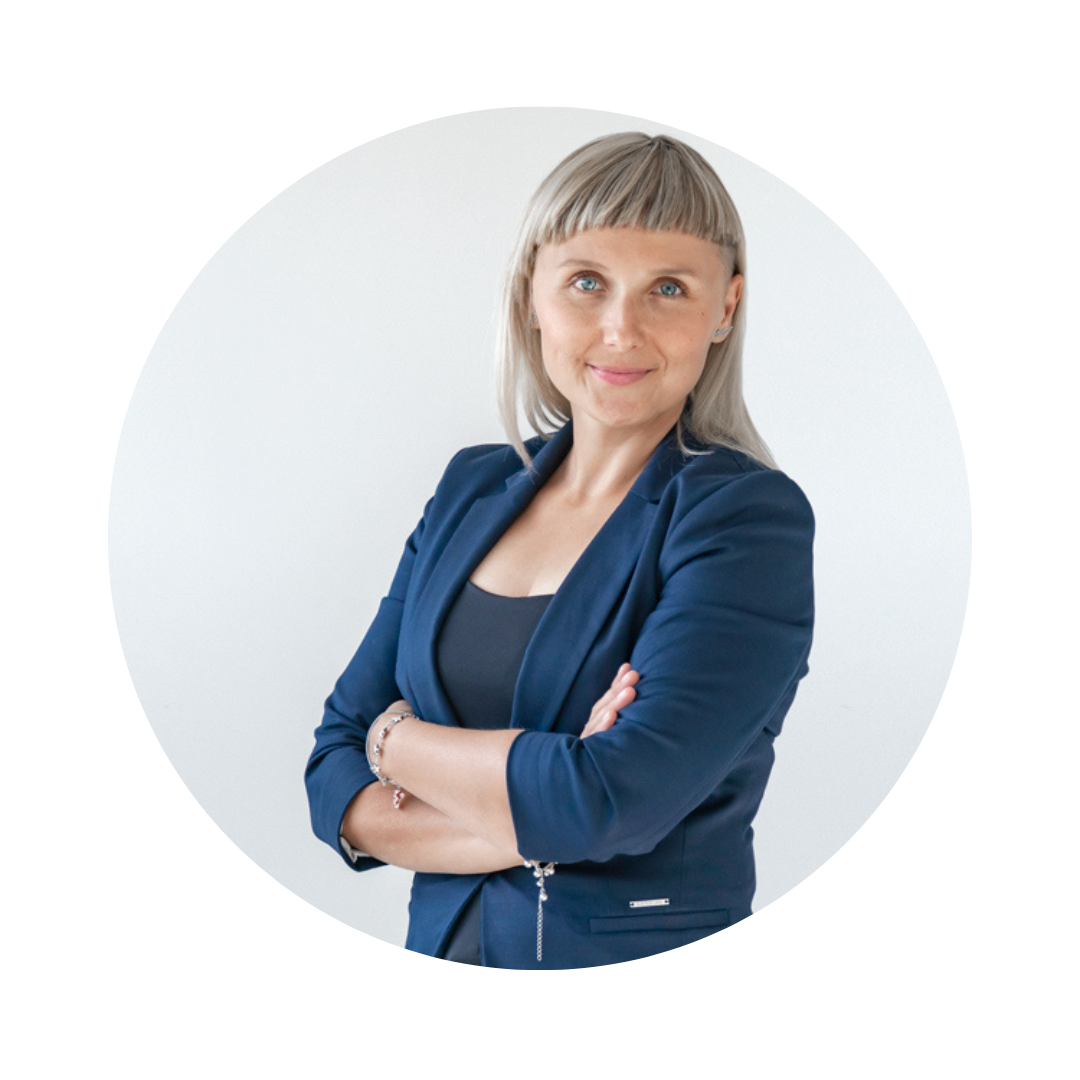 Katarzyna Ujek
Specjalizuje się w szkoleniach z odporności psychicznej, zarządzania stresem i emocjami, inteligencji emocjonalnej, przeciwdziałania wypaleniu zawodowemu oraz zarządzania konfliktem. Z wykształcenia jest socjologiem z uprawnieniami mediatora sądowego, absolwentką psychologii pozytywnej na Uniwersytecie SWPS, dyplomowanym trenerem biznesu, coachem ACC ICF, konsultantem metody MTQ48 – naukowego narzędzia badającego odporność psychiczną, praktykiem Racjonalnej Terapii Zachowań, facylitatorem job craftingu- nowoczesnej metody na wzmacnianie zaangażowania i odpowiedzialności pracowników, aktualnie w trakcie 4 letniego szkolenia z psychoterapii humanistyczno-doświadczeniowej Gestalt. Doświadczenie zawodowe zdobywała na stanowiskach sprzedażowych, menadżerskich i trenerskich w międzynarodowych korporacjach na rynku usług finansowych. Posiada ponad 10-letnią praktykę w prowadzeniu szkoleń, sesji coachingowych. Zrealizowała ponad 1300 dni szkoleniowych, ponad 800 godzin coachingu.
She specializes in training in mental resilience, stress and emotion management, emotional intelligence, burnout prevention, and conflict management. She holds a degree in sociology with qualifications as a court mediator, is a graduate in positive psychology from SWPS University, a certified business trainer, an ICF ACC coach, a consultant in the MTQ48 method – a scientific tool for assessing mental resilience, a practitioner of Rational Behavior Therapy, a job crafting facilitator – a modern method for enhancing employee engagement and responsibility, and is currently undergoing a 4-year training in humanistic-experiential Gestalt psychotherapy. She gained professional experience in sales, managerial, and training positions in international corporations in the financial services market. She has over 10 years of experience in conducting training sessions and coaching sessions. She has completed over 1300 training days and over 800 coaching hours.
Opinions
Współpraca
Jesteśmy bardzo zadowoleni ze skorzystania z usług firmy Warto Szkolić. Z całą odpowiedzialnością mogę przyznać, że jest to firma godna zaufania. Bardzo mili pracownicy, którzy przeprowadzili nas przez cały proces dotyczący dofinansowania, realizacji i rozliczenia projektu. Najważniejsze jest to, że firma dopasowała się do naszych potrzeb, a szkolenie przerosło nasze oczekiwania.
Szkolenie
Osoby z którymi się kontaktowaliśmy wykazały się profesjonalizmem. Szkolenie było bardzo interesujące, jednak żałuje, że nasza firma wybrała tylko jeden dzień szkoleniowy. Wydaje mi się, że większa ilość dni przyniosłaby jeszcze więcej korzyści, a przekazana wiedza nie musiałaby być tak bardzo skondensowana jak miało to miejsce podczas jednego dnia.
Profesjonalizm Warto Szkolić
Dużym atutem firmy jest jej zaangażowanie w otrzymane zlecenie i to, że dopasowuje się do indywidualnych potrzeb klienta. Szkolenie bardzo podobało się wszystkim pracownikom i na pewno jeszcze skorzystamy z usług szkoleniowych tej firmy.
więcej opinii